Rock Climbing is one of most popular and healthy sports in world. There are several types of climbing mainly classified in top roping and lead climbing.
Then in advanced terms, it is divided in Aid Climbing and Free Climbing as both are famous traditional climbing methods. Aid climbing involves the use of climbing gear while free climbing depends on the technical ability, practice, skill, and physical strength and endurance of the climber. During the early days, free climbing was the only method of rock climbing and climbers used equipment only if they feel unable to advance further. However, both types are in practice but after start of indoor climbing, top roping is quite popular and safe comparatively.
Although, Pakistan is endowed with hills and mountain ranges, where one can start learning the art of Rock Climbing as a beginner or can test his / her skills as a professional rock climber; however it is not popular sport at any level.
History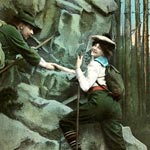 As mountain climbing has always involved climbing over rocks and up cliffs therefore Rock Climbing history is traced back to mountaineering itself. Some old Chinese watercolor paintings, dating back to 400 BC, illustrate men climbing mountains, however safely it can be determined in late 19th. Century.
Rock climbing has been going on for as long as people have wanted to go up mountains.
In early day's European climbers from Germany and Great Britain seriously did climbing with a passion, however in 1920's, rock climbing, as a part of mountaineering started gaining popularity in the United States.
In 1950's Rock Climbing became more popular and started getting its independent identity. As an independent sport, Rock Climbing started developing in technique and grading system for technical difficulties, although the grading formula and system varies from country to country and may vary from person to person.
In 60's & 70's, the United States was the leader in rock climbing and the climbers were keen to develop climbing techniques. With popularity of the sport, climbers chose to do harder free routes and harder individual moves, while in the 1980s, the trend changed to short but technically difficult climbs. This change also introduced fixed protections instead of traditional placement of protection.
Being a vital time in the history of Rock Climbing, this new type of climbing became known as Sport Climbing and was widely accepted in the climbing circles. Developing into a sport, new safety gear invented to ensure the safety and after the introduction of indoor walls, rock climbing techniques are being practiced without venturing into the hostile terrain outside, however still climbing experience in wilderness, enjoying the nature is still alluring. Sport climbing changed the history of rock climbing and made indoor climbing inevitable. However, the trend of sport climbing got more popularity in Europe and compared to the United States.