The Adventure Club - Pakistan is one of most active and dedicated organizations, offering various adventure activities since 1994. The Club has been organizing camping and trekking programs, alongwith few projects of civic nature and carries a remarkable and consistent record of successful activities.
The Club has organized several programs to introduce and promote adventure activities in the country. The Club has also focused on advertisement and promotion of outdoor activities, through print and electronic media and has published several articles and reports in leading newspapers and magazines and has produced programs with various television channels in Pakistan.
In 2004, the Club was awarded distinction through the Federal Minister for Tourism for its active and productive collaboration with PTDC for various tasks and particularly for the production of Souvenir Magazine, Focus, published on the event of Golden Jubilee Celebrations of K2 and Nanga Parbat. PTDC and Ministry of Tourism included The Adventure Club - Pakistan as on of its affiliated organizations and published Club's introduction in their magazine Focus.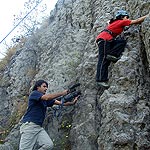 The Club has always focused on Rock Climbing as well and conducted several training programs for enthusiasts and produced a complete introductory documentary program with Pakistan Television for its most popular program, Travel Guide of Pakistan.
In 2007, the Club offered Ministry of Tourism for holding 1st. Women Rock Climbing Competition - 2007 to be organized on International Women Day (IWD). The program was approved and was included in the Calendar of Events of program, Destination Pakistan, 2007, celebrated as Visit Pakistan Year. The program proved one of the most interesting and successful and a new era of Rock Climbing started in Pakistan, particularly for females.
In 2008, the Club again organized a competition, in collaboration with Capital Development Authority (CDA) as a part of Margalla Spring Festival. For the 2nd. Women Rock Climbing Competition on IWD, the Club invited four top class climbers from America and organized introductory lectures in various institutions, besides several trainings sessions for female climbers.
After holding of two competitions for female climbers, the Club organized an open competition for male climbers, under the caption, Wasif Memorial Rock Climbing Competition - 2008. The competition was dedicated to one of the Club members, Syed Wasif Ali, a great adventure enthusiast who passed away in an accident in China.
Observing International Mountain Day (IMD) in December 2008, the Club organized another competition under caption IMD Under 19 Rock Climbing Competition - 2008. The competition was organized separately for males and females.
In March 2009, this was the time for 3rd. Women Rock Climbing Competition to be organized consecutively for three years on International Women Day, however including a competition for male climbers as well, it was organized on IWD, however under the caption All Pakistan Rock Climbing Competition - 2009. This time the competition was again a part of Margalla Spring Festival by CDA and the award ceremony was hosted by the Pakistan Tourism Development Corporation (PTDC), when a prestigious evening held at Daman-e-Koh to distribute shield and trophies among position holders and on special performances.